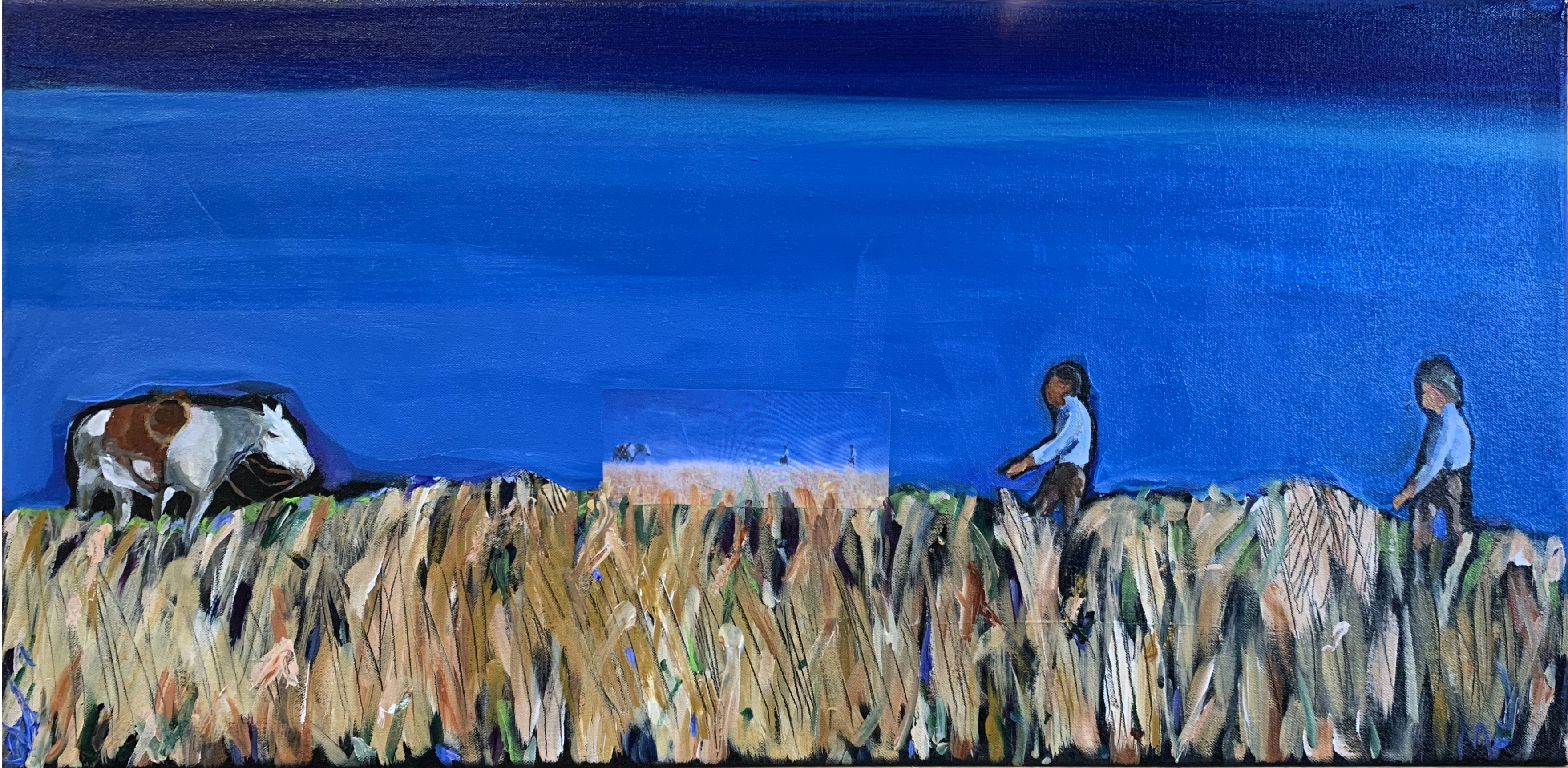 Art: "A Western Painting" by Owen Brown
Poetry: "Furusato" by Sebastian Koga
Obaa, I dreamt on a cold spring morning
that your bones hurt inside the wooden box
in the family grave.
I whispered the Heart Sutra to that last photograph
of you in the nursing home, and the sky filled
with agarwood smoke.
An old envelope burned. You had written on it
my phone numbers as I moved from place to place,
without returning.
At hedge-trimming time we would take plum wine
and rice to grandfather's grave. In Kochi
the dead never forget us.
Summer will come, you'd say to the night,
and my fair grandson will return
with seaweed and cicadas in his hair.
Published November 3th 2023

Sebastian Koga (b. 1977) is a Romanian neurosurgeon, medical researcher, mountaineer, and poet. He lives in Virginia and New Orleans, USA. He immigrated to America as a child following the Romanian Revolution of 1989, and returned to Romania between 2000 and 2004 to lead a landmark neuroscience research project. His academic studies included several years spent in Japan, England, New Zealand and USA. While specialising in neurosurgery at the University of Virginia, he continued a lifelong interest in lyric poetry and poetry in translation, and writes in several languages, including English and Japanese. He received an Masters in Creative Writing from the University of Oxford and is a fellow of many scholarly societies including the Royal Society of Arts and the Royal Society of Literature.
Thinking is more interesting than knowing, but less interesting than looking.  The source of Owen Brown's practice is the world with all its beauty and confusion – nature, so alien and alluring, the social, equally baffling but no less wonderful, and the uncomfortable friction between that, and our internal interpretations. Minneapolis-based,  collected at major institutions in both America and  Europe, he has long realized that life eludes easy understanding or conclusion: what are we seeing when we really think about it and how did we miss it before?