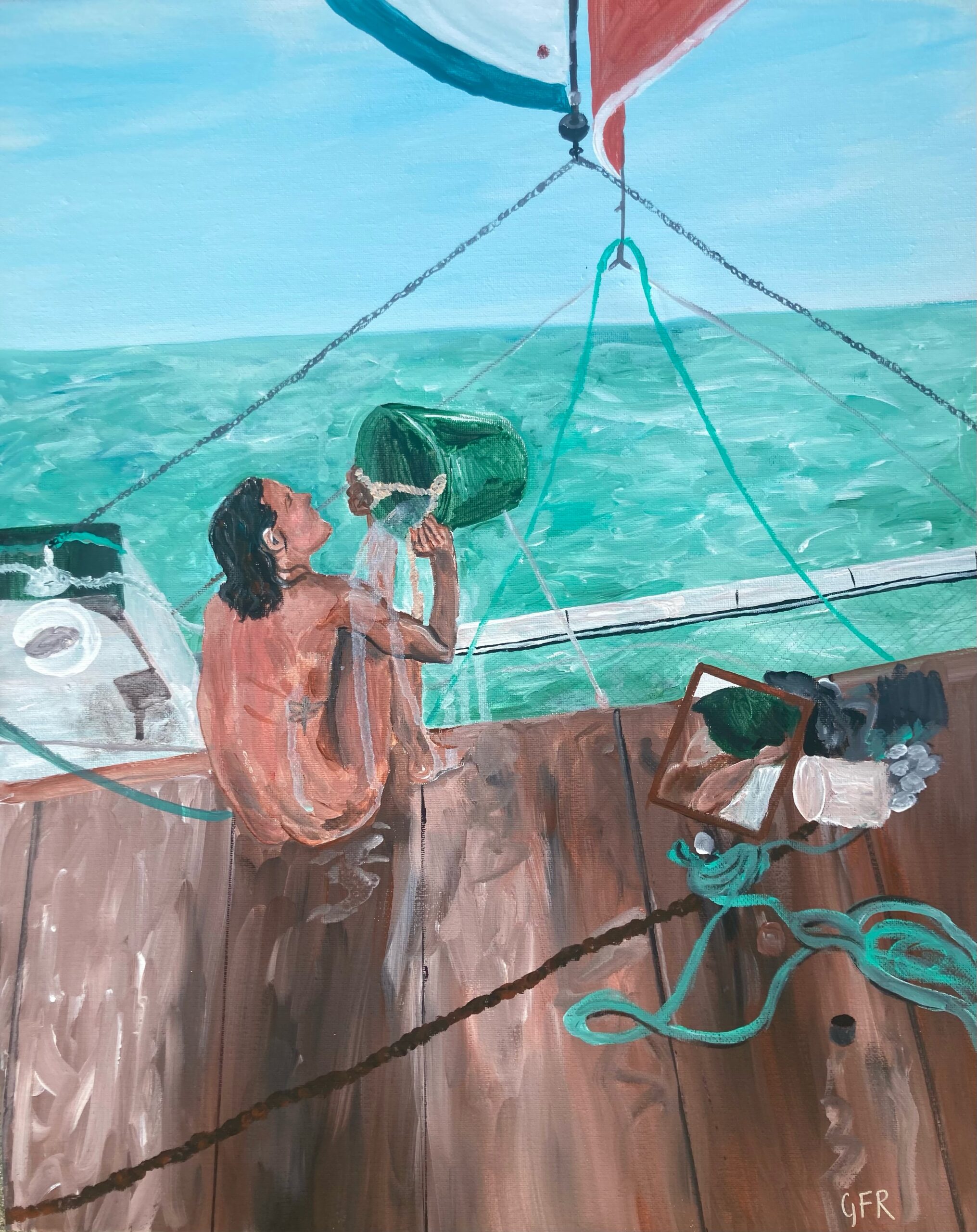 Art: "Women and the Wind" by Grace Freedson
Fiction: "Mermaids of East Vancouver" by Sonja Larsen
This blue. There is an ocean this blue somewhere. Somewhere a girl just like her is having a bikini life, laughing and splashing in that snow cone blue ocean while she is floating in this East Van swimming pool trying to ignore her little sister and all her little snotty friends.  
This blue. At the workshop in school today the lady said mindfulness saved her life. She had an addicted mom. She said I know what it's like to be you. The lady was like her grandma when she talked about Jesus. Just try it and see if it helps. No harm in trying. 
People had two brains in their heads, the lady said. Lizard brains and human brains. Lizard brains were fast and just did things to keep us alive. Human brains made choices, lizard brains didn't. Sometimes you needed a lizard brain, like when you dodged to avoid a punch. But lots of times you needed a human brain to slow down and actually figure out what to do. She said No wonder it's hard to make up your mind sometimes! and laughed like it was a joke. 
One of the exercises was to look around the room and notice everything that was red. Then they closed their eyes and tried to remember them. The exit sign. TJ's jacket and the laces of his shoes. But she doesn't say anything. 
Keep your eyes closed the lady said Who can remember something blue? And nobody can. The lady said Because you were only focused on the red. Try and remember that. You can help your brain to look for good things too. And that can help when life gets hard. 
Even underwater she can hear her little sister. Pretend we are mermaids! Then there is the other layer of sound, the water sounds, sloshing and bubbling. Like being enclosed in a giant body. Is that what it's like for that little egg in there? 
When her grandma finds out, she's going to be so mad.  
She lets out all the air in her lungs, bubbles shooting up as she sinks. Down in the deep end it's shiny and dirty all at the same time. Maybe she will stay here forever, be a mermaid and never walk or talk again. All blue all the time. But her lizard brain and human feet push her up back up as soon as she touches bottom. 
Published December 25th 2022

SONJA LARSEN's memoir Red Star Tattoo My Life As A Girl Revolutionary (Random House Canada) made the CBC and National Post's Best of 2016 lists and was awarded the Edna Staebler Creative Non-Fiction award. Her short work has appeared in literary publications in the US, Canada and the UK. She lives in Vancouver British Columbia and is working on a book about her experiences running a computer lab in an inner-city community centre.
Grace's work is concerned with ecology: how we relate to each other and the environment. "Women and the Wind" honors the women's adventure collective of the same name. What Grace hopes most of all is for poetry and art to give a little breath back to the world. You can find her work on instagram @gracefreedson.