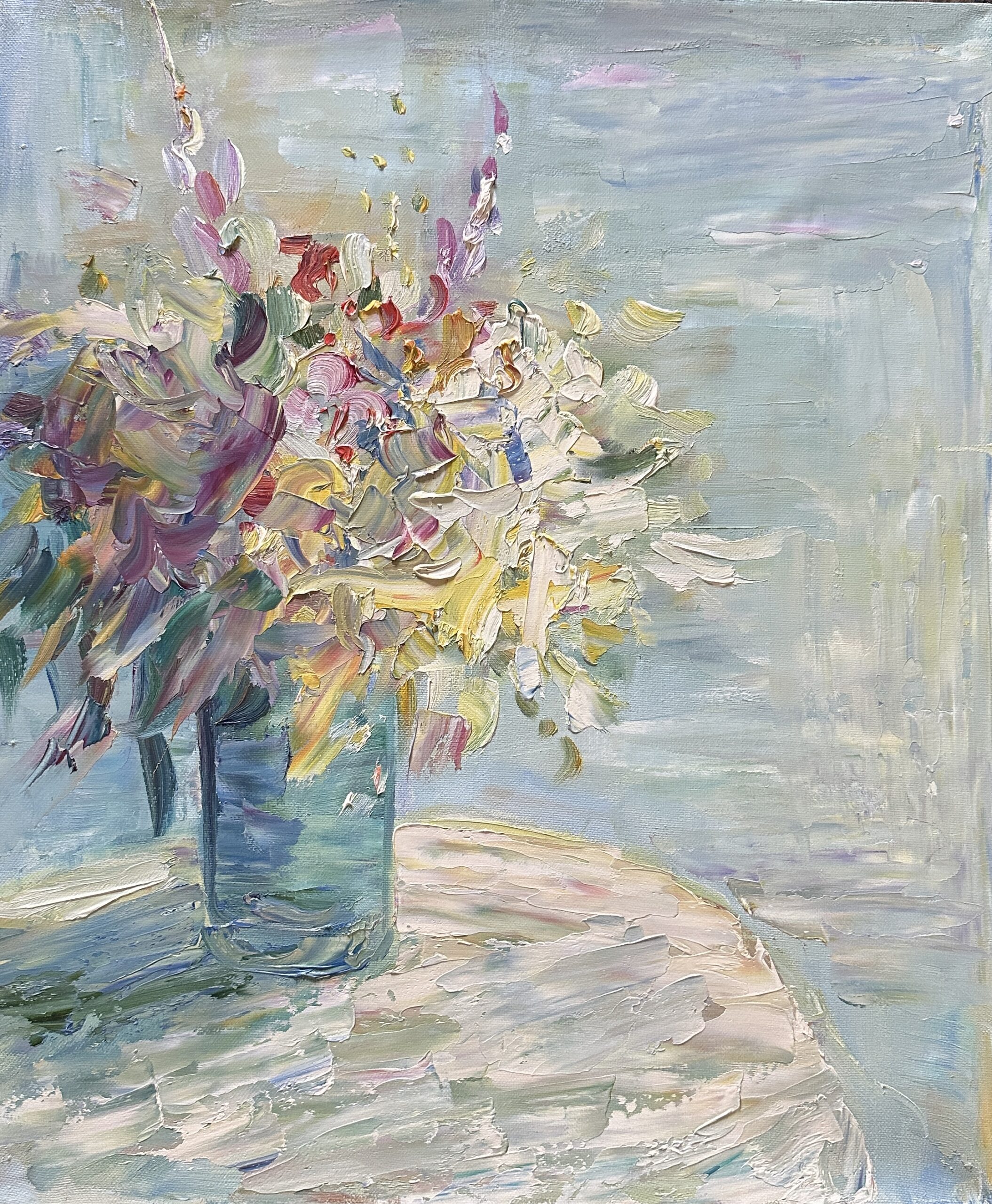 Art: "Woke Up Too Early For Love" by Irina Metz
Nonfiction: "My First Summer" by Susan Kraft
Fireflies
In early June they sprinkled my Southern Gothic backyard like fairy dust. Dusk by dusk, more arrived.  
Mid-month, K also arrived, from Brooklyn. Wine in hand, we took front row seats. With our backs against the picnic table and eyes to the yard, lazy legs stretched out; it was such an unlikely scene for us to share. We smoked a little pot. That was unlikely too. But the fireflies had made us giddy, and we wanted more. More of that sprung-from-the-city giddiness. 
We noticed how their choreography began low to the ground, but as the darkness deepened they rose high into the branches of the grand, inky maple. Now Christmas lights. Now Magic.
I don't understand anything: how to waterproof a picnic table so it won't sprout black flowers of mold, how to cut grass, or why fireflies do what they do. I could google it, but I'd rather wonder. Is it a mating call? Morse code? An expression of joy? 
Later, after K had gone to bed, I headed to the bathroom.  On the buckling white hexagons, I noticed some blinking. A little firefly had made its way through a tear in the screen and had dropped, exhausted and confused, under the cabinet. It's on again off again light no longer looked like joy. It was an SOS: Help me. Help me. Help me.
Still such a city girl, I am intimidated by insects, even these angels. I scurried to find a plastic container, scooped him up and, heart hammering, flung the container out the back door. What was I afraid of?
I sat on the kitchen floor and felt like weeping. 
Ants
In late August, ants marched into the kitchen, a sudden and surprising invasion. I thought we had worked out our borders. There is something about their hectic, single-minded industriousness that is hard to bear. They crisscrossed the tile backsplash in a sugar searching frenzy. Did they have headaches, I wondered, a result of the poison I'd sprayed along the edges. My heart contracted. I felt like a huge, malevolent god, the ignorant arbiter of who gets to live and die.
Butterflies (all names are real)
In September, on the day that I saw Rose standing very still outside her front gate, the weather was just beginning to shift. Sugar Magnolia and I were sauntering home from the park with breakfast on our minds, when she waved us over smiling. Mags' tail flew to happy attention, waving back; Rose's dog, Tulip, was beloved.
But alas, Tulip was napping inside, unimpressed by the hazy, gooey-looking sacks hanging from the stone wall and around the milkweed. These were the Chrysalis, Rose explained, inside of which, Monarch butterflies were determinedly becoming.
I had known they were on the way. I had noticed the fancy striped caterpillars of various sizes all around the neighborhood, so motionless and extraordinary that this time I couldn't help but research who they were and what they were meditating on. It turned out that they were actually pretty busy.  Born just about 1/16 of an inch long, their skin can't grow, so every couple of days they spin a pad of silk, attach their hind legs, and step out of their skin. Woah. They do this five times until they are strong and mature enough to build these glowing private changing rooms in which they transform from Clark Kent to Superman. 
Rose pointed to a torn open Chrysalis, near which a small monarch butterfly balanced. He was glistening and quivering slightly, almost as if sweating and panting from all the exertion. She told me that he was resting, drying his wings before heading out into the world.  
My own yard isn't fully hospitable yet, but a few of these beauties did stop by in the weeks that followed. "Bravo," I whispered each time I saw one, "Look at you."
Published September 9th 2023

Susan is a writer, and a yoga and mindfulness teacher, living in North Carolina. This piece is excerpted from  a memoir she is writing about leaving her lifelong home of New York City. Learn more about her work at sk-yoga.com
Irina Metz is an artist of Russian origin, born in Moscow and currently painting in Armenia and California. Her art reflects decades of intercultural studies that she carried out during her multiple journeys all around the world and while working on her PhD in Philology thesis. The pursue and perception of Happiness have always been the main themes of Irina's research in literature, history, culture, sociology, psychology making it only natural to find their reflection in her art.
Woke Up Too Early For Love, 2022. Rêves Français / French Dreams series. Oil on canvas. 60x50cm.